Samarucs Hiking .
In our section of the club, we bring together those seeking out the natural world with our favourite sport, principally hiking.
Get to know our spectacular community, discover its untouched corners and old, Moorish roads, re-tread forgotten and lost routes between historic villages, scale summits with amazing views or just discover off the beaten track spots.
Parc Natural Municipal Serra de Xiva
23.04.13
Una àmplia xarxa de senderes
Descripción:
Declarado en el año 2010 y con una superficie de más de 5.500 ha. Es el Paraje Natural Municipal de mayor extensión en la Comunidad y forma un área de relieve muy contrastado, con altitudes ya significativas y una red de drenaje configurada por profundos barrancos encajados entre paredes de fuerte desnivel.
Parajes de interés:
Yacimientos prehistóricos Abrigo de Peña Roya
Pinturas Rupestres: Cueva de la Alhóndiga, Cueva de la Cofia y Cueva del Barranco Grande
Yacimientos edad de bronce: Puntal de Calles
Yacimientos ibéricos: El castillejo, Cueva de vacas, Cueva del Sapo, Cueva Roya, Fuente del Conills
Bienes etnológicos: Cuevas de Charnera y de Morea, descansadero de los Morrongos, La Nevera
Refugio Oratillos: refugio de montaña de gestión municipal
GR-233
PR-CV-300 http://www.femecv.com/senderos/pr-cv-300
PR-CV-385 "Senda Malos Pasos"
Itinerario 1, "Senda de la Nevera"
Itinerario 2, "Senda de la Cueva de la Charnera"
Itinerario 3, "Senda de la Fuente la Cabra"
Itinerario 4, "Senda del Pico Hierbas – Monte Gordo"
Itinerario 5, "Senda de la Peña del Señor"
Itinerario 6, "Senda de la Vereda Real"
Itinerario 7, "Senda del Bojet"
Itinerario 8, "Senda Malos Pasos" PR-CV-385
Itinerario 9, "Senda de Oratillos"
Itinerario 10, "Senda del Cuco"
Flora:
En términos generales la cubierta vegetal presenta un grave deterioro por la reiteración de incendios forestales en las últimas décadas. No obstante encontramoe en regeneración el pino carrasco, la carrasca y el fresno de flor
Fauna:
Destacan las rapaces como el águila perdicera, el aguilucho cenizo y el halcón peregrino.
Se han inventariado 6 especies de murcielagos incluidos en la categoría de vulnerables entre las que nos encontramos con el murciélago de herradura mediano, catalogado como especie en peligro de extinción.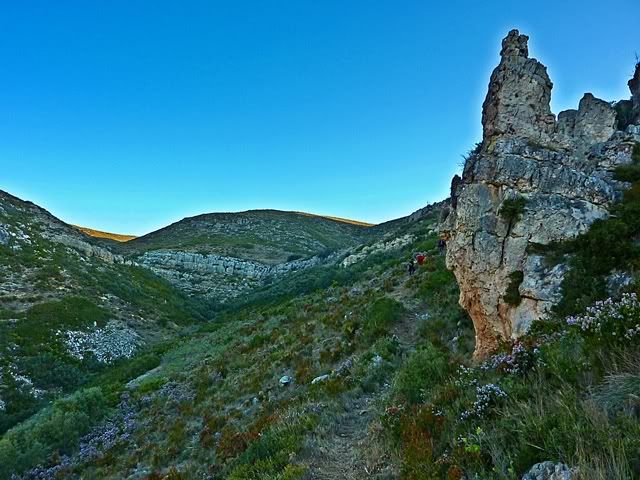 Mes información en:
http://www.cma.gva.es/web/indice.aspx?nodo=80131&idioma=C
http://www.chiva.es/es/ayuntamiento/plan-especial-paraje-natural
http://www.xarcia.org/download/CHIVA%20castellano.pdf
Oficina de Turismo Aytm de Chiva Pl/ Gil Escartí, s/n tfno. 962 520 006 www.chiva.es
Posted on Tuesday, April 23rd 2013